This week is going better than last. I am starting to feel better after my surgery and am getting back into the swing of things.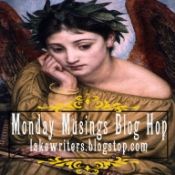 Posting Monday, Wednesday and Friday: Ok, so it is time for me to admit it. I have a blog hop obsession. I just joined a new blog hop called Monday Musings that should help inspire me to post every Monday. At least that is what I am hoping. This week I was inspired to write a
bad poem
.
Posting flash fiction for Friday Flash: As far as Friday goes I have not posted in a while. I have two stories that are in the middle of being created, but both are on hold for now. Luckily I have some time tomorrow so should be able to get that done for this Friday.
Writing 500 words every day: I have not written every day. No one was in my way this week. I am the only reason I did not reach this goal. **Hangs head in shame** This goal seems to be so elusive, but I don't want to drop it I want to keep trying at it. Can you turn your "Don't mess with me" stare inward?
photo credit:
gfpeck
via
photopin
cc
photo credit:
holisticmonkey
via
photopin
cc