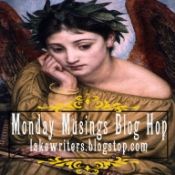 I joined a new blog hop because I love them. You get to meet new bloggers and sometimes you find someone that you really love that you would have otherwise missed. The new blog hop is called Monday Musings. A new prompt is put up every week and on Monday we all hop around to see what the topic inspired in the other participants. This week the topic was "Food for thought". It inspired in me a really bad poem, but I put it out there in hopes that you will at least get a giggle.
There are many things
I want to write
Some about shining day
Some in blackest night
So many stories
Swimming in my head
Interesting and new
Like none I've ever read
Sometimes they won't come out
Neither here nor there
They need a gentle push
And I know just where
The best place to write
Is where they serve food
It makes the story talk
And puts me in the mood
If you are reading this you made it through and I am so grateful. Where do you find that you do your best writing?
photo credit:
Incinerator
via
photopin
cc